On Conducting (1895)
Anton Seidl
32 pp. • cloth • ISBN 9780987155627 • $25
Published 1 September 2012 (out of print)
Ebook edition available from Google Play.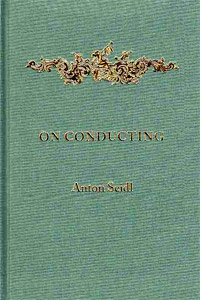 About the book
This is a facsimile of the first edition of Seidl's essay On Conducting published in The Music Of the Modern World in 1895.
Anton Seidl (1850-1898) was a musical assistant of Richard Wagner from 1872 to 1877. He was intimately involved in the first production of the Ring des Nibelungen in 1876. With Wagner's support, he went on to become a conductor. In 1881 he conducted the Ring in Berlin. Wagner attended rehearsals and two of the cycles, and was deeply impressed. Seidl conducted in the United States from 1885, including several historic Wagner productions, until his death in 1898.
Seidl is the only one of Wagner's conductors to have written in detail about the way the composer's works should be performed. Along with Wagner's own tract "On Conducting" (1869), therefore, Seidl's essay is of great importance.
This small book is a deluxe, limited edition. The soft cloth of the covers is stamped with gold foil. The endpapers reproduce the original marbled paper of The Music Of the Modern World. The frontispiece is a magnificent portrait of Seidl by Aimé Dupont. There are many illustrations throughout the text.
This is an essential book for all people interested in the art of conducting.
What the reviews say
"The present Parrot Press edition of Seidl's On Conducting reproduces a twenty-two-page essay originally published in 1895. Though the essay was reprinted, without illustrations, in Finck's Memorial, the new edition is a handsome facsimile of the original presentation in a massive American volume titled The Music of the Modern World. The thirty-four illustrations include drawings of Wagner singers, paintings and lithographs of Wagner characters, and etchings of the Festspielhaus and Wahnfried. The fin de siècle aroma is potent." - Joseph Horowitz, author of Wagner Nights: An American History (Berkley: University of California Press, 1994), in The Wagner Journal, Vol. 7, No. 2 (July 2013).
Buy the book
The book is out of print, but may still be available from Australia's leading music bookshop Da Capo Music in Sydney.
Related book
Seidl's achievements as a conductor of Wagner's works are examined in detail in another book by Parrot Press: Great Wagner Conductors: a listener's companion, by Jonathan Brown.